Photography
That sounds better than Penumbral Eclipse of the Moon which is more accurate. I was on my way out the door when I saw and remembered the eclipse so I ran back in for the camera. I was surprised about how easy it was to see this non-umbral eclipse. That said, look to the upper left near the Mare Frigorus area. That looks darker there. I don't know how close the umbra came tonight but its easy to imagine it's right there off the edge of the Moon.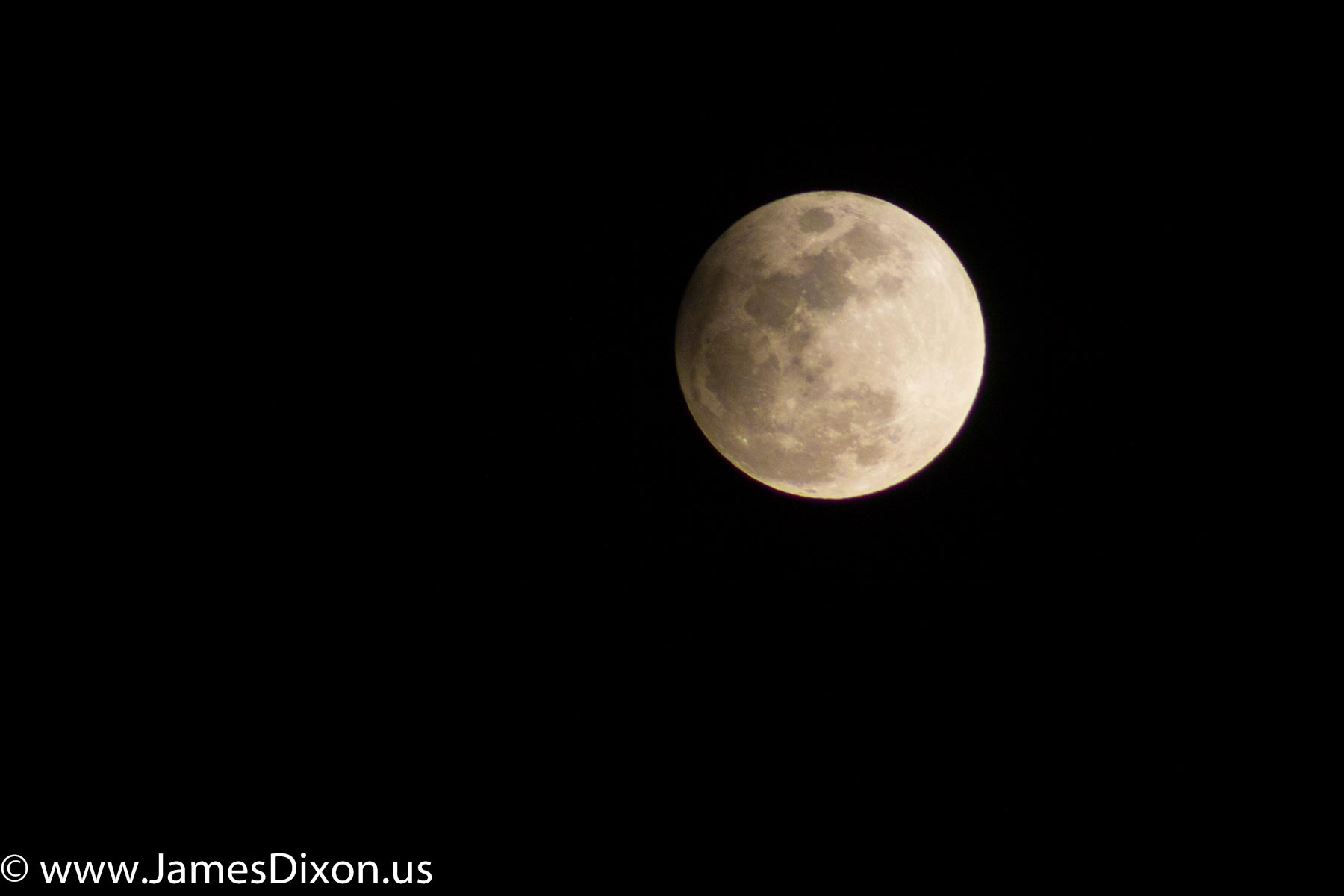 Here's a picture of the left to right from this evening. The Moon and Venus are, respectively, always the second and third brightest objects in the sky not counting occasional supernova. Mars on the other hand gets really bright for a couple months every two years and then fades to relative obscurity. So it is here. The Moon is about 500 times brighter than Venus and Venus is perhaps 100 times brighter than Mars right now. For this picture, I used a regular DSLR with a 300mm lens set to 6400 ISO and a 1/80th second exposure. That was the shortest exposure that showed Mars and while longer exposures showed the ruddy color of Mars they also blew out the Moon and Venus. So, I had to compromise.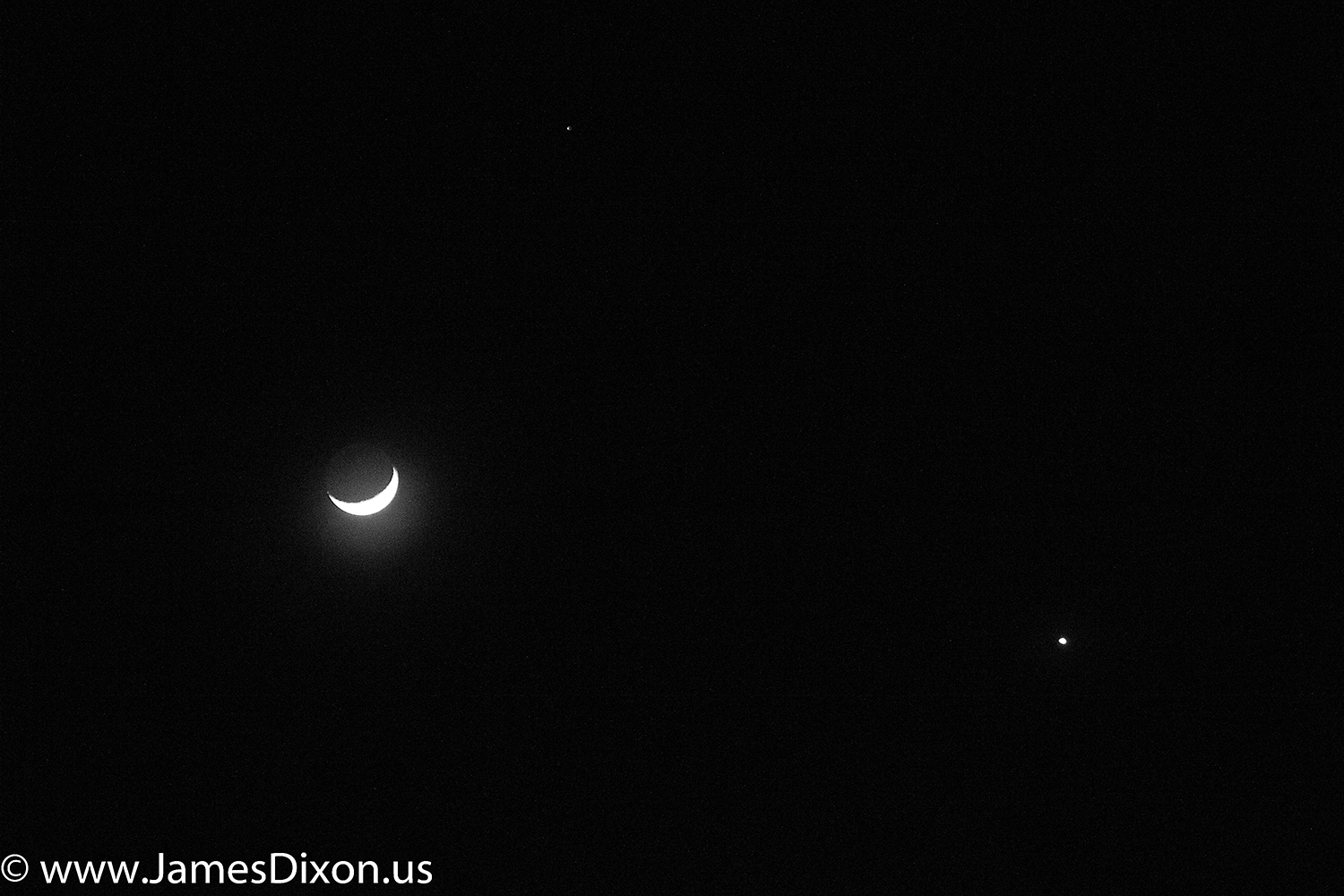 I used my Canon Rebel tonight to do some simple astrophotography. It was connected to my Nexstar mount for tracking and running BackyardEOS on the laptop to control it. After spending quite some time manually focusing and trying different ISOs and exposures I settled on ISO 1600 and 30 seconds. It was supposed to be clear but there were thin clouds all over. The bright "star" on the left is Mars and if you look closely in the lower left quadrant you'll see the teapot of Sagitarrius. I was also hoping to capture the nova currently in Sagitarrius just above the spout and if I zoom in I can see a star right where the nova is but it's none too impressive.
I went back to the River Ridge Observatory Saturday night to work on planets again.  I had noticed some dust motes on my color camera that I've not been able to clean yet so I switched to my monochrome camera. It has a higher resolution.  I started with Jupiter of course, and while the contrast is a little low look at these details!  The Great Red Spot is at about 8 oclock near the edge and see the turbulence in the South Equatorial Belt?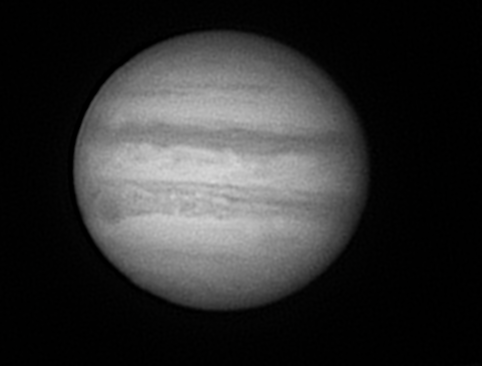 Mars was next and man it is bright!  I didn't wait until it or especially Saturn in its best position because that would be about 1 AM or later. I've flipped and rotated Mars to account for the diagonal, North is up. On the left is Syrtis Major Planitia. The light area at about 1 o'clock is Olympus Mons (tallest volcano in the solar system). Check this map (http://mars.jpl.nasa.gov/gallery/atlas/).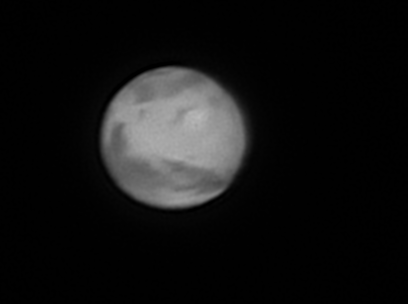 Finally, Saturn. No self respecting photographer would have shot Saturn this low in the sky but I did anyway. It sharpened up pretty well.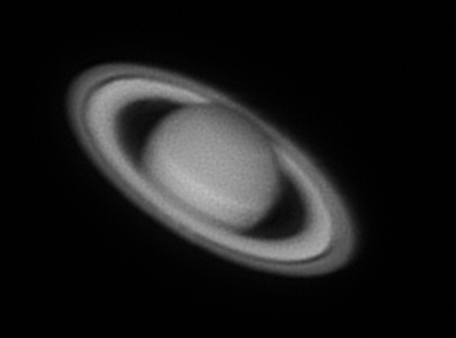 Here is a reasonably large sunspot group shot with my 80mm Celestron Onyx ED and ASI120 MM camera. I got the monochromatic camera to complement the color ASI120 MC camera I use for planets and it did a good job here.  I got the scope and the light duty Celestron Nexstar mount with next year's total solar eclipse in mind.  All three performed well today although I have to work on my technique.  I had to have Jack focus the scope while I ducked my head under a towel and peered at the laptop screen.  I'm planning to get some easy to pop up canopy for the eclipse sometime and that would help here too.  A better focuser might help. Not Jack, he did fine, but a dual speed replacement for the OEM focuser.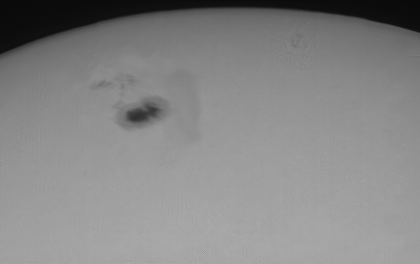 The family plus family friend Savannah drove to DC over spring break. 18 hours of driving each way plus four days in a nice BnB.  The weather turned cold of course, as it always does during spring break, it even snowed on the second day but started warming as we left. Fun but exhausting.  The pictures are in no particular order.
First it was cloudy and then it was cloudier. My plan to image it from start to finish went bust. But I still had a good time. The first pictures were taken at 1/100 second, with the ISO set to automatic while the last one was a full one second. Truth be told the clouds give the events some character but we had too much of a good thing.