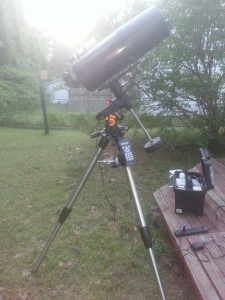 I just upgraded from a Celestron Advanced GT (ASGT) mount to its successor the Advanced VX (AVX) mount. Here are my first impressions:
The tripod legs are probably not actually larger but they seemed that way.
What are larger and more substantial are several threaded things like the latitude and azimuth adjustment screws. I think they have gone from 1/4" to 3/8" with larger knobs.
The counterweight rod is longer and the standard counterweight is 12 pounds instead of the previous 11.
The electronics of the mount now a second accessory port.
The ports are well marked and since there is concern that you could plug something into an incorrect port and damage the electronics the three of five ports that not as commonly used have a flip-down cover and the declination drive cord has a label warning you to not plug it into an autoguider or accessory port. The power port is threaded so that if your power cord is too then you are less likely to unplug it accidentally.
The clamps to lock your scope to the mount head are, like others mentioned earlier, more substantial than before. The ASGT essentially had one clamp plus an emergency backup clamp. With the AVX the two are identical and each larger than the main clamp of the ASGT.
Speaking of clamps, the RA and Declination clamps only turn about an 1/8th turn from loose to tight. I'll learn over time if that will increase with use.
The home position markers are not the simple labels that the ASGT, though that did work, and are much easier to see.
The back of the polar access does not have the simple pull off cap of the ASGT but a stouter screw off cap.
A significant improvement is in the enclosure for the declination worm gear. In the ASGT this turned with the tube assembly and there as a point in the sky, close to the zenith, where this would run into the mount causing you at a minimum to shut everything down and restart your alignment.  In the AVX this enclosure does not spin and is also pointed forward so that this cannot happen.
The mount is much quieter when slewing to a new position.  With the ASGT everyone knew when you moved from Venus to Jupiter, with the AVX it might just be your neighbors.
One thing I miss is the built-in bubble level and the only place to set one is on the tripod leg spreader.